I've had a career of two halves. I am motivated by a strong work ethic received from my parents. I worked hard and was blessed with management that listened when I said, "let me do that". I would outperform targets, troubleshoot, and solve site engineering project management problems, and win academic awards. I was made a director at age 26, and three years later had designed and built my own environmentally friendly home in Surrey. I had a keen interest in making profits with a lighter environmental footprint, and led the first municipal/social housing company in the UK to achieve ISO 14001. I have a passion for construction and learning, and I care about the rights of people.
The second part of my career began when, having established a successful consultancy working with multinational organisations and the London Olympics, I was left paralysed after being exposed to hydrogen cyanide. My beautiful seven-year-old son, Zane, was killed in the same incident. We found out that the house we lived next to was a secret toxic landfill. Keeping my consultancy going was hard. My son was an active sustainability enthusiast. I remain motivated by what I can do for future generations as a legacy to my son. In a career, some will experience tragedy and illness; 14 million people in the UK are disabled. The learning I share is never give in; keep trying, and help others.
Prior to the tragedy, our work as one of a few globally certified sustainability and assurance experts, had ranged from China, India and the Asia Pacific region. Following it, the work dried up. I was in a wheelchair fighting for survival, and there was no lifeline. I had always taken the time to help others, providing a healthy career balance, supporting charities, the NHS, and diverse organisations to boost their capabilities. I remained chair of a national patient health charity for almost a decade. I built a charity from the bottom, while trying to re-build my own company. I felt the full force of life-changing injuries and have even had to fight for justice over my son. Well over 117,000 people have signed the TruthAboutZane petition for justice. The Labour party placed Zane in their manifesto as one of the greatest injustices of our time. My career is enhanced by activism and my efforts to ensure integrity in business for all stakeholders.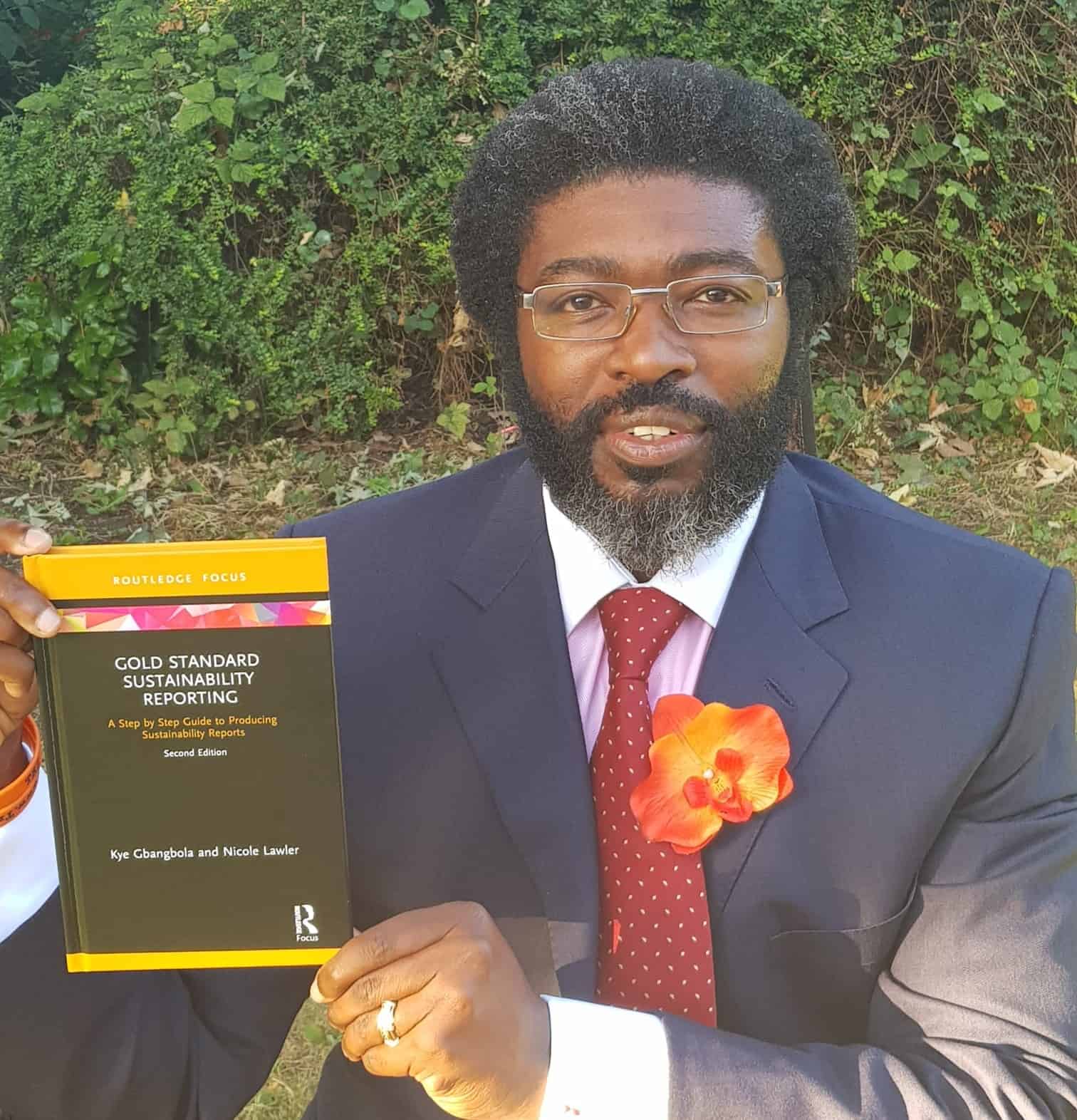 "We must challenge the social construct to have progressive industries, and this is achievable given most people of all ethnicities want an end to inequality, and a system that works for all."
Kye Gbangbola MBA FCIOB FIEMA CEnv LCSAP
Founder Managing Director of Total Eco Management Limited
THE VALUE OF EDUCATION
I was fortunate that each of my qualifications had career changing impacts. My postgraduate degree in construction management included a project management dissertation that won a national award. It got me an executive position at an international multidisciplinary construction management company. Later, I did a postgraduate degree in development management which was strong on governance, strategy and leadership. My qualifications and experience combined to provide the skills to lead teams, innovate and drive up productivity. After a decade of success and excellence awards, I was CEO ready. It was time to reinforce my skills, so I did an MBA; this transformed my options. I set up my own company, the first in the UK dedicated to sustainability at a global gold standard of reporting.
RUNNING A BUSINESS
The main challenges are funding and access to work. Research shows black-led organisations experience an unlevel playing field. Surmounting the challenges comes from resilience and perseverance. Access to networks that deliver actual opportunities are diminished as research shows that organisations tend to hire white people who look like themselves. It is pragmatic to recognise these limitations yet persevere. Delivering our IEMA-approved training is part of the 'keep calm and carry on' approach. We focus on enabling more people to gain much sought-after sustainability credentials through certified training.
I use my expertise to provide globally certified sustainability training and consultancy. I write books and articles on gold standard sustainability, and sickle cell disease, the latter receiving a five-star review from The Lancet. All my writing is targeted at being a resource professionals can use for self-development.
I like working with people and making a difference, closing the gap between the world as it is, and the world as it needs to be through sustainable development. I enjoy chairing global policy discussions, launching standards and digital technologies, and sharing my knowledge and experience with others. I take pride in my company being the official corporate sustainability consultant to the London 2012 Olympic Games, and in speaking at Glasgow COP26.
The main challenges are to be heard and be seen. We have the expertise and capacity to do more to enable business executives to establish the processes and systems to disclose their impacts on the environment, including their human rights impacts.
DIVERSITY AND INCLUSION
Diversity is critical to the future of sustainability. Research shows how some are marginalised, unheard and not represented. The scales fell from many people's eyes when George Floyd was killed. However, two years on, little has changed.
My plea is to get those affected actively involved on your boards and at senior management level, set policies, and disclose your company's diversity impacts. I would also prioritise having procurement policies, such as the government's Procurement Policy Note (PPN) 06/20. It enhances social value by encouraging opportunities for entrepreneurship, and helping new and small businesses to grow, and support training schemes that provide qualifications and fill skills gaps.
As both a Fellow, and Sustainability Ambassador of the Chartered Institute of Building, I contributed to an article on Racial Disparities in Construction – Lessons for us all. I commented that 'racism is everyone's business'. We must challenge the social construct to have progressive industries, and this is achievable given most people of all ethnicities want an end to inequality, and a system that works for all.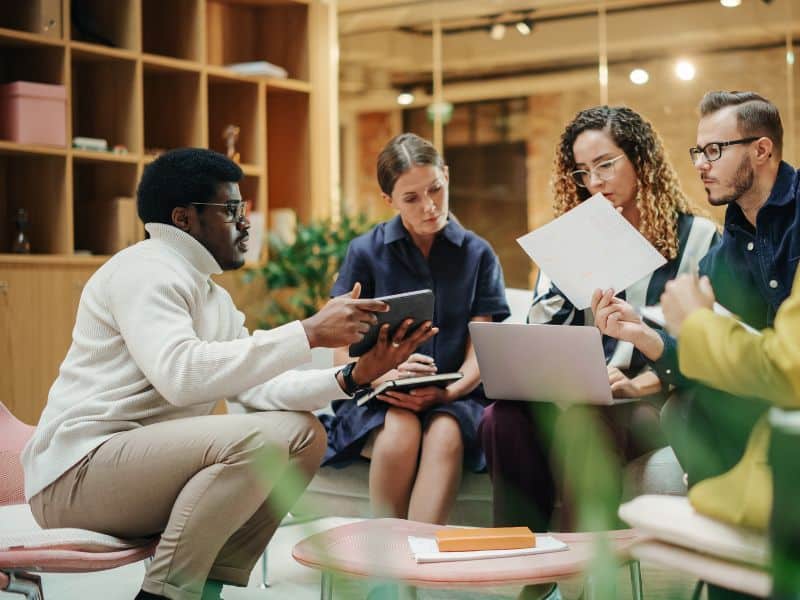 ANY ADVICE?
It's the beginning of a new industrial revolution, and the greatest investment opportunity in history. My advice is to seek the best accredited training to pursue your sustainability aspirations. Sustainability is a long-term career; the more people engage, the greater their understanding, energy and drive to change.
Read more IEMA member career stories
View all