About Terra.do
Terra.do is on a mission to build the world's largest platform for climate work, aiming to mobilise 100 million people to work directly on climate issues within this decade.
In a rapidly changing world, over half of the global GDP is undergoing transformation due to climate effects, disrupting sectors such as energy, transportation and agriculture, while also reshaping finance, construction and manufacturing. Recognising the scale of change ahead, Terra.do is committed to preparing at least 1% of humanity for this challenge.
The Terra.do platform provides a launching pad for these 100 million individuals, empowering them with the skills, networks and opportunities they will need to thrive in this new climate-first era. The organisation provides an accessible route to working in climate through a holistic approach that encompasses:
Cutting-edge learning: Terra.do's immersive programmes are designed to equip highly motivated individuals with the necessary knowledge and skills to transition into climate work. Its educational initiatives promote intensive learning, fostering expertise and confidence in those ready to take on the climate challenge.
Career growth: Terra.do serves as a hub for climate employers and hiring managers, providing a platform where they can not only recruit but also educate and inspire. This creates a dynamic environment for career development and learning, providing invaluable opportunities for those keen to build a climate career.
Community foundation: At the heart of Terra.do is a vibrant, global community. It is an expansive ecosystem of climate professionals, employers, experts and newcomers alike. Bound by a shared mission to tackle the greatest crisis of our generation – climate change – Terra.do community members support each other throughout this transformative journey.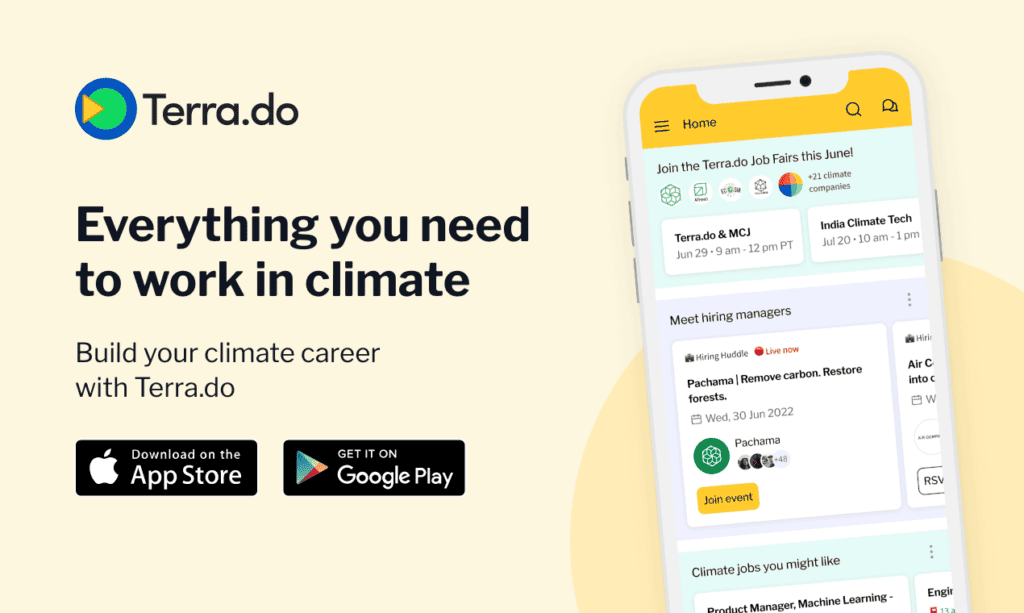 Terra.do and IEMA in collaboration for the Green Careers Hub
In partnership with IEMA, Terra.do looks forward to expanding its reach and facilitating the transition to a greener, more sustainable future. The Green Careers Hub and IEMA support Terra.do with their online UK jobs fairs, offering membership information and benefits to the Terra.do community. Working together, we will collaborate on relevant events, content and insight sharing.
Created by
IEMA is the membership body for environment and sustainability professionals